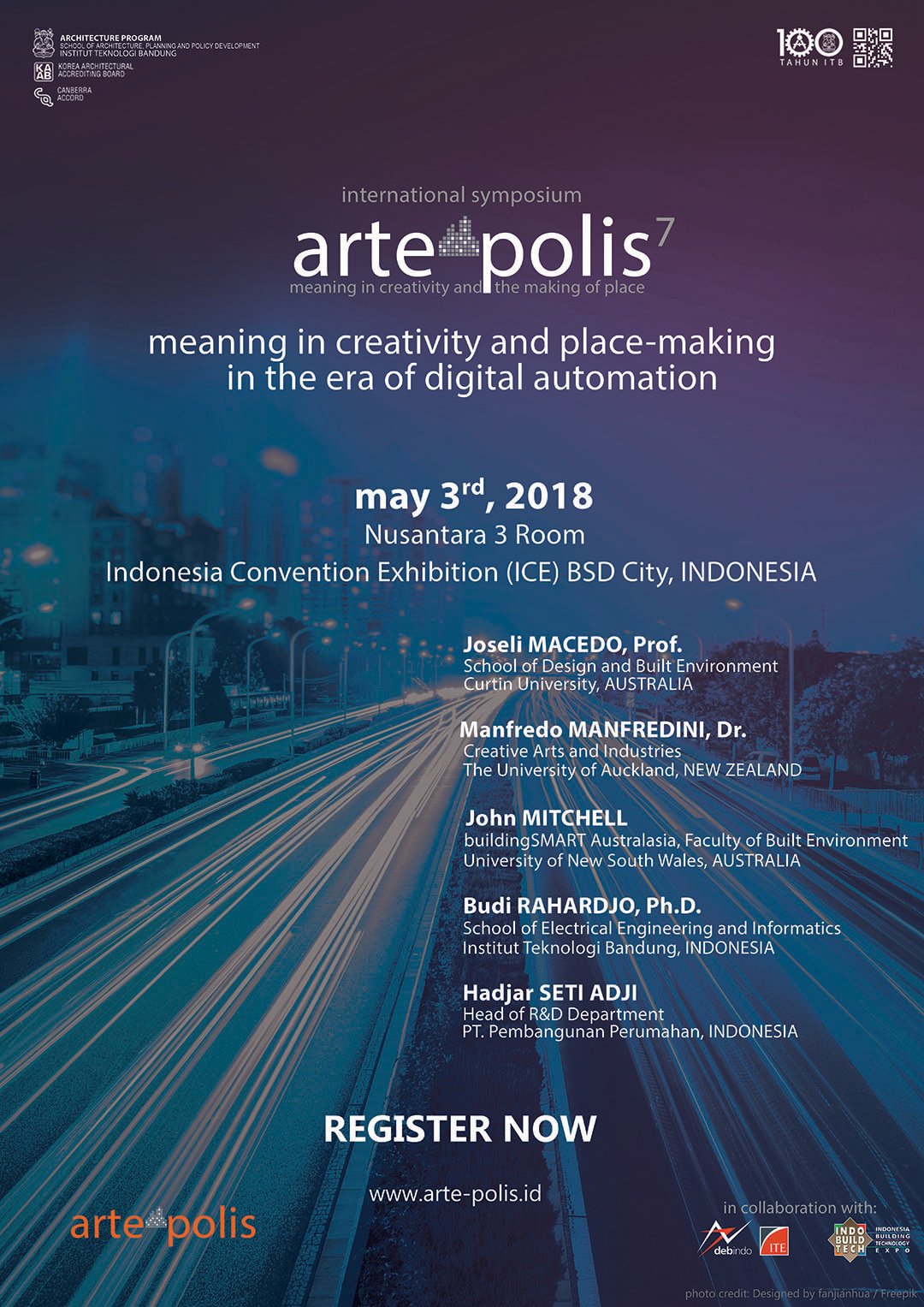 Artepolis
Arte-Polis merupakan kegiatan rutin berupa konferensi, symposium, workshop maupun diskusi dua tahunan yang diselenggarakan oleh Program Studi Arsitektur, Sekolah Arsitektur, Perencanaan dan Pengembangan Kebijakan (SAPPK) Institut Teknologi Bandung. Tahun 2018 ini, kegiatan Arte-Polis yang berformat International Symposium akan diselenggarakan bersama-sama dengan berbagai lembaga Nasional dan Internasional,  berlangsung di Indonesia Convention Exhibition (ICE), Bumi Serpong Damai, Bintaro,Jakarta pada tanggal 3 Mei 2018 berkolaborasi dengan penyelenggaraan pameran Indobuildtech 2018.
Arte-Polis 7 International Symposium
Simposium/Konferensi Internasional Arte-Polis telah berlangsung selama 14 tahun, diikuti oleh peserta lebih dari 15 Negara, dan rata-rata dalam setiap kegiatannya diikuti oleh 200 peserta baik dari dalam maupun luar negeri.
Arte-Polis 7 memiliki visi membangun sinergi antar disiplin ilmu dalam mengembangkan keilmuan dan peran nyata bagi pengembangan bidang-bidang kreatif di Indonesia. Dalam kaitan tersebut, pada penyelenggaraan tahun ini  Arte-Polis sedang dalam proses mencari pola lain untuk menambah jejaring, menambah ragam kegiatan ilmiah sesuai dengan perkembangan situasi dan tetap relevan dengan dinamika yang ada serta melibatkan lebih banyak pihak dari komunitas, industri, profesional dan akademik sehingga format yang digunakan adalah mengundang beberapa nara sumber yang harapannya, pemikiran-pemikian yang disampaikan berdampak lebih luas.
Selain hal itu, dalam rangka mengembalikan semangat Arte-Polis sebagai hub berbagai stakeholders terkait industri kreatif dan lingkungan binaan, Arte-Polis memandang perlu untuk mengundang lebih banyak pihak, mengajak lebih banyak pelaku -tidak hanya kalangan akademis- dan kembali bertukar-pikiran dan berdiskusi mengenai strategi dalam merespon secara kongkrit perkembangan yang ada di era ini.
Tema yang kami tetapkan yakni: "Meaning in Creativity and Place-making in the Era of Digital Automation" merupakan undangan untuk bersama-sama mendiskusikan isu-isu yang sangat relevan dengan desain, lingkungan binaan dan teknologi yang secara langsung maupun tidak langsung akan berdampak pada masa depan Indonesia. Kami mengundang beberapa nara sumber baik dari dalam maupun luar negeri untuk memberikan paparan, mengundang diskusi dan  terkait dengan topik berikut:
BIM, Mass Customization and Delivery Methods in Building Industries.
Information Technology-based Creative Process in Spatial Design and Analysis.
Digital Fabrication and Automation in Construction Industries.
Keynote Speakers
1. Manfredo MANFREDINI, Dr. – Creative Arts and Industries, The University of Auckland, NEW ZEALAND.
2. John MITCHELL –  BuildingSMART Australasia; Faculty of Built Environment, University of New South Wales, AUSTRALIA .
3. Joceli MACEDO, Prof. – Head of School of Design and Built Environment, Curtin University, AUSTRALIA.
4. Hadjar Seti ADJI, M.Eng Sc IPU – Head of Research & Technology Division, PT. Pembangunan Perumahan (Persero), Tbk, INDONESIA.
5. Budi RAHARDJO, Ph.D. – School of Electrical Engineering and Informatics, Institut Teknologi Bandung, INDONESIA .
Registrasi
Untuk informasi pendaftaran dan biaya silakan ke: www.arte-polis.id