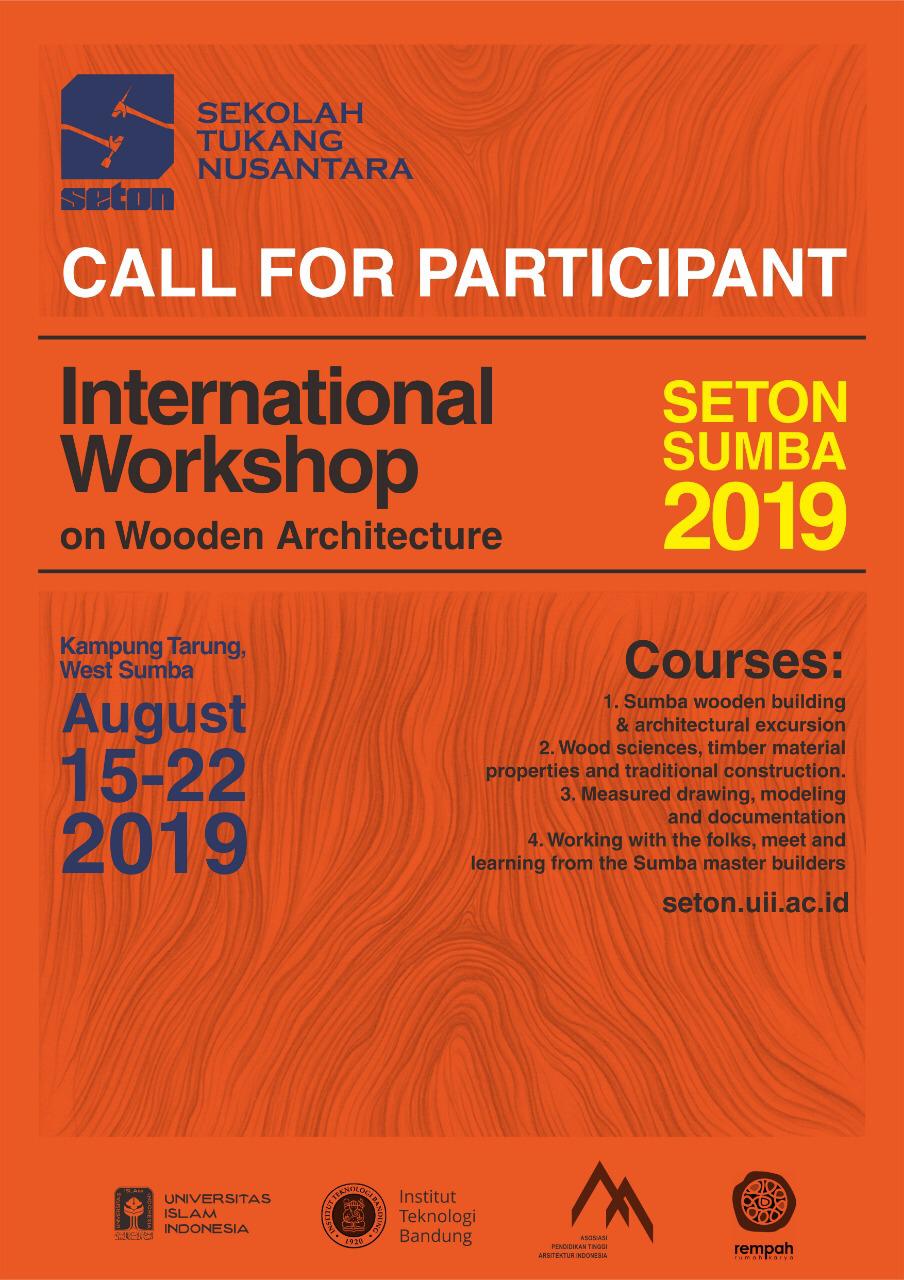 CALL FOR APPLICANTS
Date: 15-22 August 2019
Kampong Tarung, Sumba, East Nusa Tenggara, Indonesia
Focus: Sumbanese Wooden Building and Tropical Hardwood Species
Brief
This eight-­days workshop program is the result of a partnership between the Sekolah Tukang Nusantara (SETON) in collaboration with Department of Architecture Universitas Islam Indonesia Yogyakarta, and Architecture Program of Institut Teknologi Bandung. This workshop co-­hosted by Indonesian Association of School of Architecture (APTARI/IASA), and Rumah Rempah Karya, Solo. It aims to promote the cultural and tectonics studies of wooden architecture and their construction approach in the region and internationally.
The workshop program will be taught by a pool of experts. Its aim is to give participants a sound theoretical and practical knowledge essential for designing timber material and for selecting the most appropriate methods of design timber. It will showcase the state-of-the-art action research on wooden architecture and cultural carpentry design approach related aspects of tradition, construction methods and design tools.
The workshop is organized around seven interconnected units covering the following subjects
principles of SWB, forms, structure system and their construction;
using organic material for building and their responsibility;
properties of wood;
factors affecting the design of wood;
principles of timber joint; and
 the conservation of wooden buildings an
structures, including wood working tools and machinery.
The course includes a eight-day, a build of eight days to natural sites in Kampung Tarung, Sumba and architectural excursion to cultural village in Sumba.
What is SWB?
a small single-story building of complicated, serving as a poor, rough, or royal house or palace.
a traditional dwelling, which maybe constructed of various local materials.
a dwelling of simple construction, especially one made of natural materials, as of logs, bamboos and grass.
a simple roofed shelter, consisting of two stacking roofs.
A local build this house by working together for a certain period of time without being paid
Why Kampung Tarung?
SETON carried out an architectural excursion to Kampung Tarung in April 2017. SETON drew wooden buildings with measured drawings, surveyed how the community prepares building materials, and interviewed several senior artisans on the process of building wooden buildings on Sumba. Sumba is home to cultural villages that have exotic and unique wooden buildings. Kampung Tarung is one of dozens of indigenous villages that still hold firmly to Sumba culture, includes building wooden houses. The culture includes the search for building materials in customary forests, the selection of good days to build houses until the ritual before and after building traditional houses.
The use of organic materials in Sumba's houses makes it very risky for fires. In October 2017 there were fires in 28 wooden houses in Tarung village. By working together between residents and village elders, and with various assistances from many parties, the rebuilding of wooden houses in this village continues. Starting from the search for building materials in customary forests in early 2018, continuing the construction of wooden houses since July of the same year. They built wooden houses when they finished farming activities, March or April. May is usually to collect building materials that will be used in the construction of houses next year. Construction of these houses will end in October at the start of the rainy season. Until now, at the beginning of 2019, only 12 houses had been completed. So, there are still 16 more houses that need to be built customarily. We invite you join to be part of the rebuilding of wooden houses in Kampung Tarung in period July to October 2019.
Who can apply?
To be eligible to apply for the 2019 IWWA, you must:
Be a full-time and advanced undergraduate (final year) or post-graduate student pursuing a full-time degree in Architecture, Interior, Furniture, Design Product, or related fields; be an architect, a researcher, and a building artist or a carpenter active in one of the above fields.
Have a good command of English (English is the language of instruction)
Location
Held over eight days at Kampung Tarung (Sumba, East Nusa Tenggara, Indonesia), the program will be build a full scale structure located at there.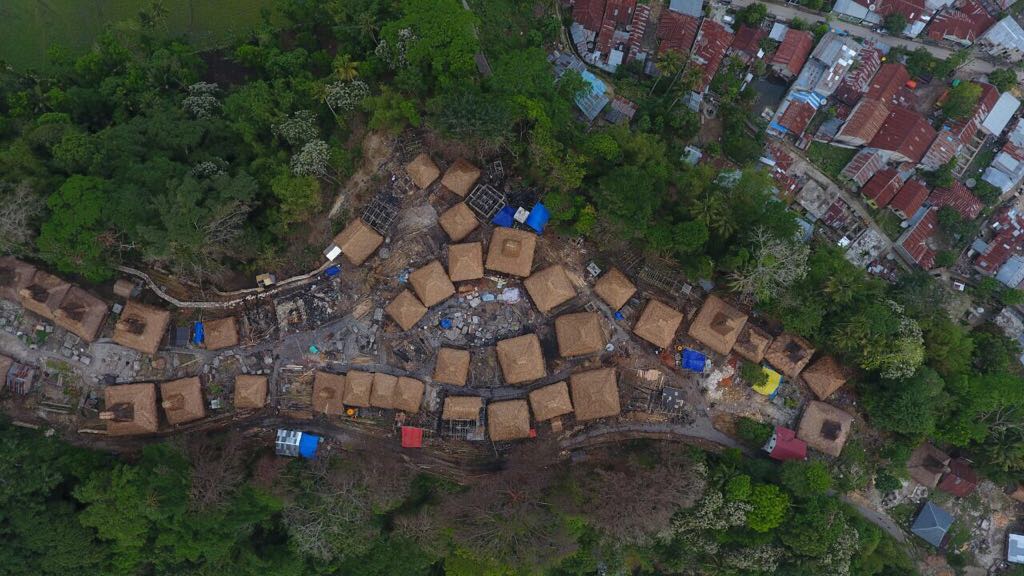 Figure 2: Kampung Tarung From Above, West Sumba, East Nusa Tenggara Province
Photo Credit: Unknown

Figure 3: Kampung Tarung Scenery
Photo Credit: SETON, 2017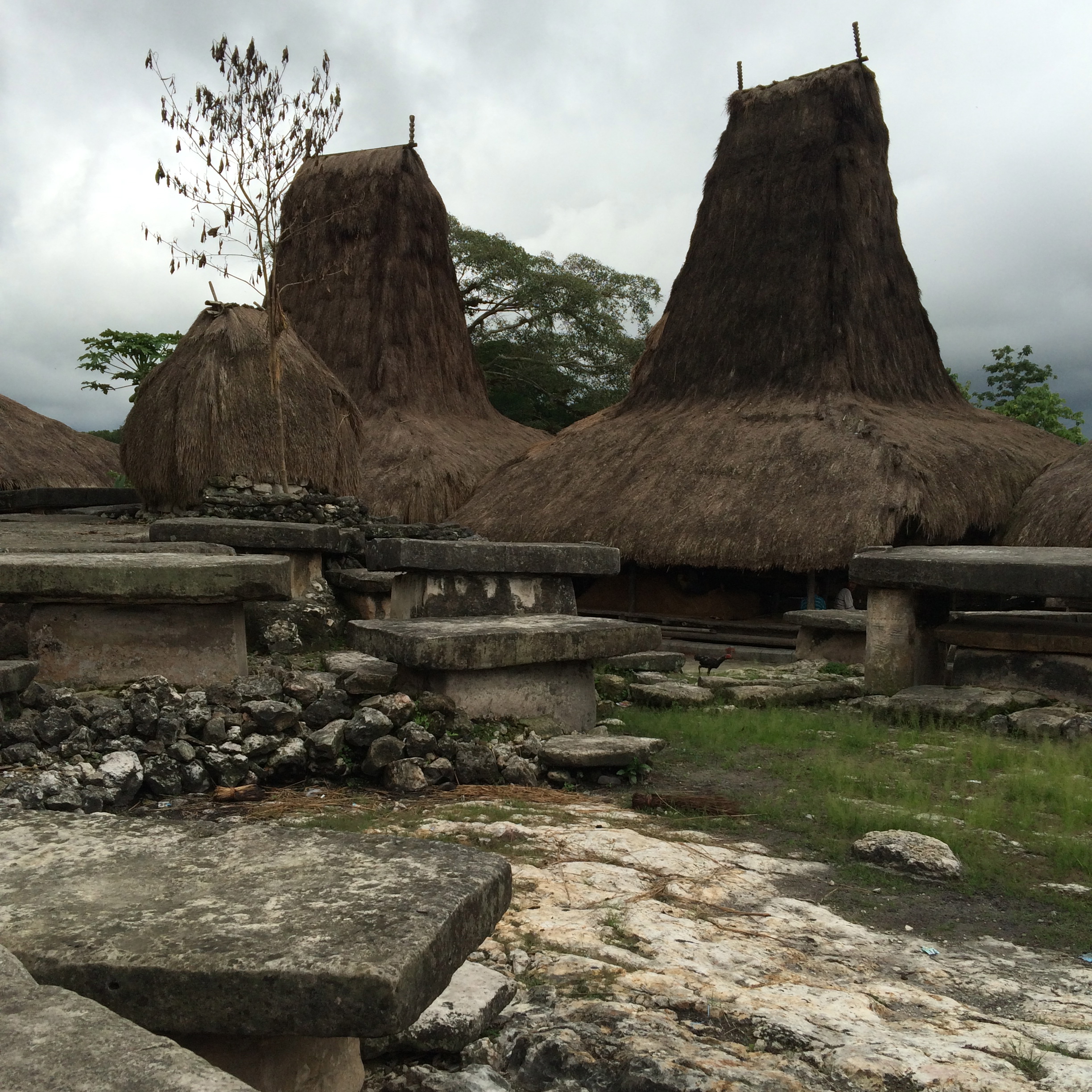 Figure 4: Kampung Tarung
Photo Credit: SETON, 2017
How to apply
Application form and instructions can be accessed HERE
For more details about the program, please read the program brochure.
Check out our FAQs for answers to commonly asked questions. If your question was not answered in the FAQs, kindly direct them to seton[at]seton.uii.ac.id.
Application deadline: 29 March 2019
Payment deadline: 1 May 2019
Key features
Thematic courses on traditional material and construction
Working with the folks
Architectural excursion
Courses
Sumba Wooden Building.
Wood sciences, timber material properties and construction.
Measured drawing, modeling and documentation
Meet and learning from the Sumba master builders
Activities
Working with locals on 1:1 construction
Documentation of object and methods
Architectural excursion to traditional settlements of Sumba
Output
Documentation of wooden building: sketches/hand drawing, computer modeling and simulation, indigenous timber joints, etc.
Documentation products:
a. A book of Sumba Wooden Building.
b. Documentary video
c. Photo essay
Certificate
A certificate of attendance and credits given by SETON will be awarded to participants who satisfactorily complete the course. Courses Performance Criteria are:
History of Indonesian Architecture and Tradition
Architecture and Society
Building Material and Methods
Architectural Communication
Reading List
https://kebudayaan.kemdikbud.go.id/bpcbbali/kampung-tarung-sumba/
Course Fee: USD 500 (International), IDR 6.000.000 (Lokal)
Travel, accommodation and living expenses
Participants will be responsible for their domestic/international round trip travel costs to and from the training venue, personal expenses and insurance. In order to cover accommodation and meals during the course participants will be covered by committee. Candidates are strongly encouraged to seek financial support from sources such as governmental institutions, employers and funding agencies.
Program Grant and Scholarship
Due to the shrinking budget, there is no grant and/or for this workshop program.
Collaborators
Architecture Program, Institut teknologi Bandung: Aswin Indraprastha | aswin@itb.ac.id
Architecture Program, Petra Christian University : Rony G. Sunaryo | ronygunawan@petra.ac.id
Architecture Program, Islamic University of Indonesia: Yulianto P. Prihatmaji | prihatmaji@uii.ac.id
If you wish to download a pdf. copy of the program e-flyer (announcement), please click here.
Correspondence
E-mail is encouraged. All correspondence concerning the above course should be addressed in English to:
Mr. Abdul R. Magzaya
Sekolah Tukang Nusantara (SETON)
Universitas Islam Indonesia
1st Floor M. Natsir Building
Jalan Kaliurang km 14 Sleman Yogyakarta 55584 Indonesia
Tel: +62-274-896440 ext. 3238
Fax: +62-274-895330