KULIAH AR4057 PEOPLE, ENVIRONMENT AND PLACEMAKING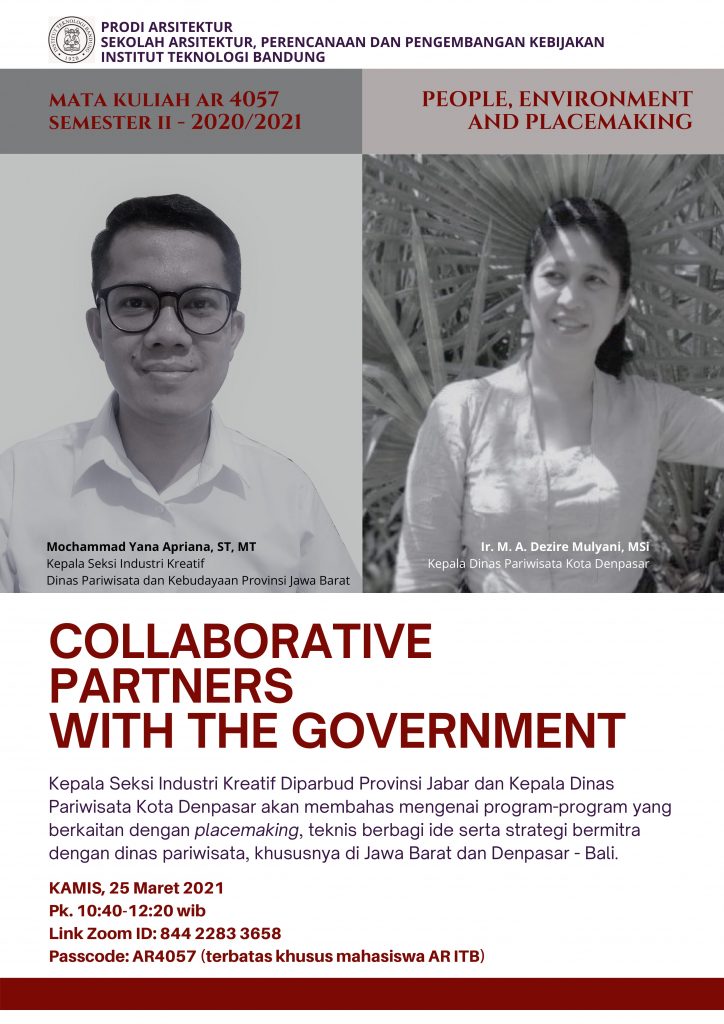 Mata kuliah AR4057 People, Environment, and Placemaking akan melaksanakan kuliah tamu pada hari kamis, 25 Maret 2021 pukul 10;40-12;20 WIB yang terbatas khusus bagi mahasiswa AR ITB. Pada kuliah tamu kali ini akan menggundang Mochammad Yana Apriana, ST, MT selaku Kepala Seksi Industri Kreatif Dinas Pariwisata dan Kebudayaan Provinsi Jawa Barat dan Ir. M. A. Dezire Mulyani, MSI selaku Kepala Dinas Pariwisata Kota Denpasar. Kuliah tamu akan membahas terkait program-program yang berkaitan dengan placemaking, teknis berbagai ide serta strategi bermitra dengan dinas pariwisata, khususnya di Jawa Barat dan Denpasar-Bali.
kuliah tamu akan dilaksanakan pada zoom meeting melalui;
Link Zoom ID : 844 2283 3658
Passcode : AR4057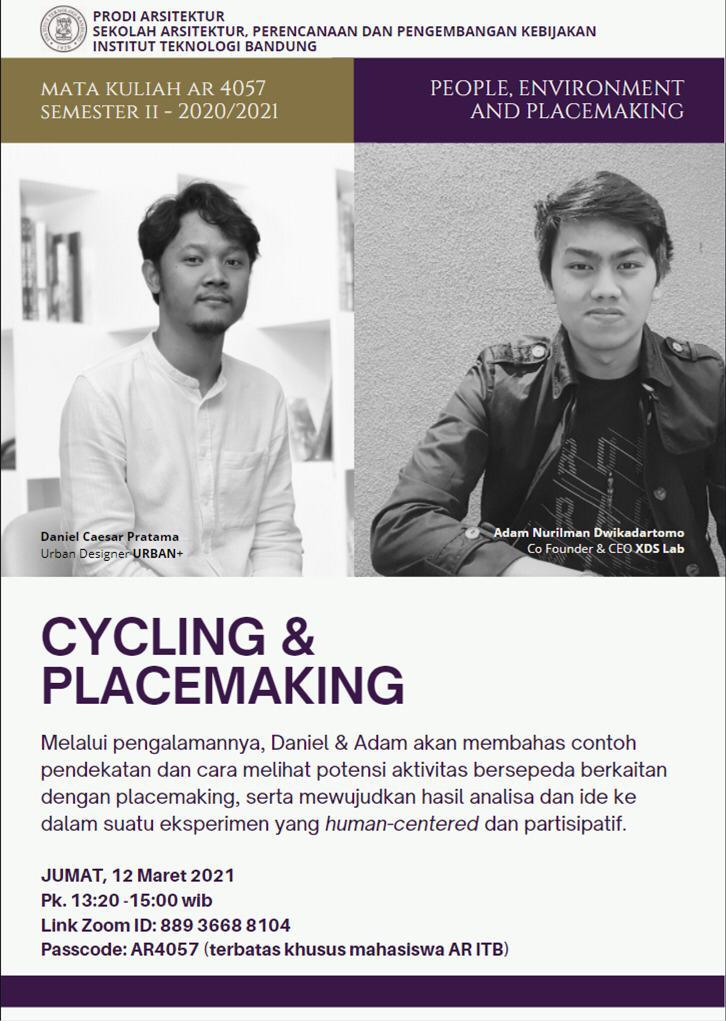 Mata kuliah AR4057 People, Environment, and Placemaking juga telah melaksanakan kuliah tamu pada hari Jumat, 12 Maret 2021 pada pukul 13:20 – 15:00 WIB yang diisi oleh Daniel Caesar Pratama selaku Urban Designer URBAN+ dan Adam Nurilman Dwikadartomo selaku Co-Founder & CEO XDS Lab. Kuliah tamu tersebut membahas mengenai Cycling & Placemaking, melalui pengalaman Daniel & Adam membahas contoh pendekatan dan cara melihat potensi aktivitas bersepeda berkaitan dengan placemaking, serta mewujudkan hasil analisa dan ide ke dalam suatu eksperimen yang human-centered dan partisipatif.