PROSPECTUS
School of
Architecture, Planning and Policy Development
Institut Teknologi Bandung
2020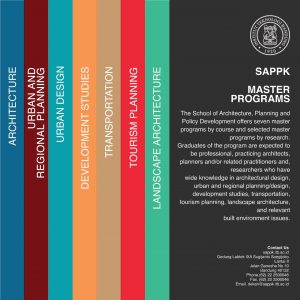 Program Studi Magister Arsitektur terdiri atas dua alur, yaitu Alur Desain dan Alur Riset. Program Magister Alur Desain dirancang sebagai pendidikan arsitektur profesional di mana kurikulum tahun pertama setara dengan kurikulum pendidikan profesi Arsitek (PPAr) yang dirumuskan oleh Ikatan Arsitek Indonesia (IAI). Pendidikan Profesi Arsitek (PPAr) merupakan prasyarat untuk mendapatkan Sertifikat Keterangan Ahli (SKA) dalam berpraktik sebagai Arsitek.
Program Magister Arsitektur Alur Desain telah diakui sebagai program pendidikan Arsitektur Profesional bertaraf internasional oleh Badan Akreditasi Internasional KAAB (Korean Architecture Accrediting Board). Pengakuan ini akan memberikan nilai tambah bagi lulusan untuk memasuki lapangan kerja di tingkat Internasional.
Program Magister Alur Riset dimaksudkan untuk membina pengetahuan yang diperlukan lulusan untuk bekerja di bidang arsitektur, baik dalam ranah keilmuan (pendidikan, penelitian dan pengembangan) maupun ranah kerekayasaan (arsitek, konsultan, kontraktor, manajemen proyek, industri konstruksi, dan lain-lain).
The Master of Architecture Program consists of two streams, namely Design Stream and Research Stream. The courses within the Master of Architecture Program in Design Stream is designed as a professional architectural education in which the first-year curriculum fulfills the requirements of the Architecture's education curriculum (PPAr) as formulated by the Ikatan Arsitek Indonesia (IAI). The Architecture Profession Education (PPAr) is a prerequisite to obtain Certificate of Expert Description (SKA) in practice as an Architect.
The Master of Architecture Program in Design Stream has been recognized as an international standard architecture education program by the Korea Architecture Accrediting Board (KAAB). This recognition will provide added value for graduates to enter employment in the international arena.
The Master Program in Research Stream is intended to foster the knowledge needed by the graduates to work in the field of architecture, both in the fields of science (education, research and development) and engineering fields (architects, consultants, contractors, project management, construction industry, etc.).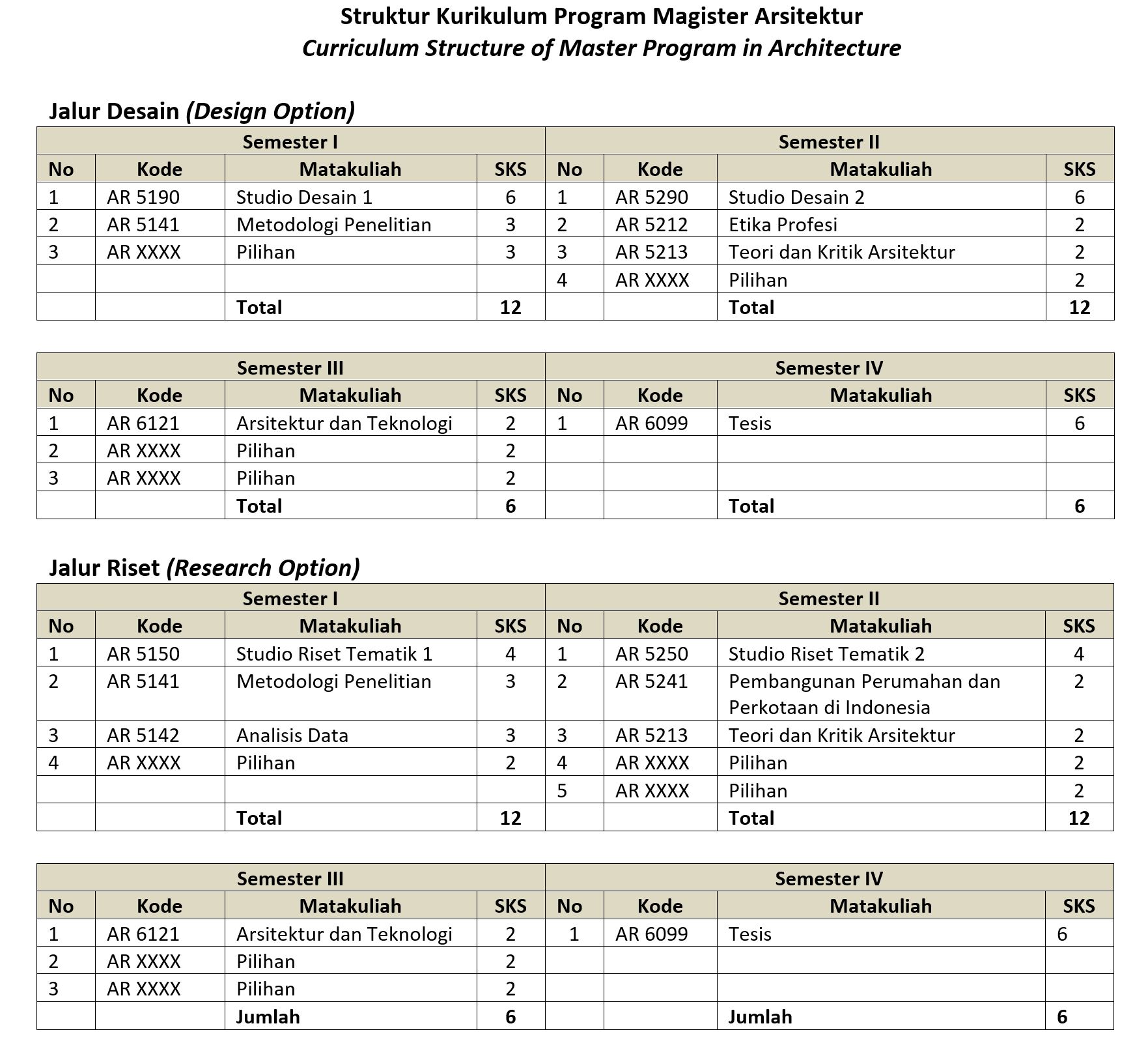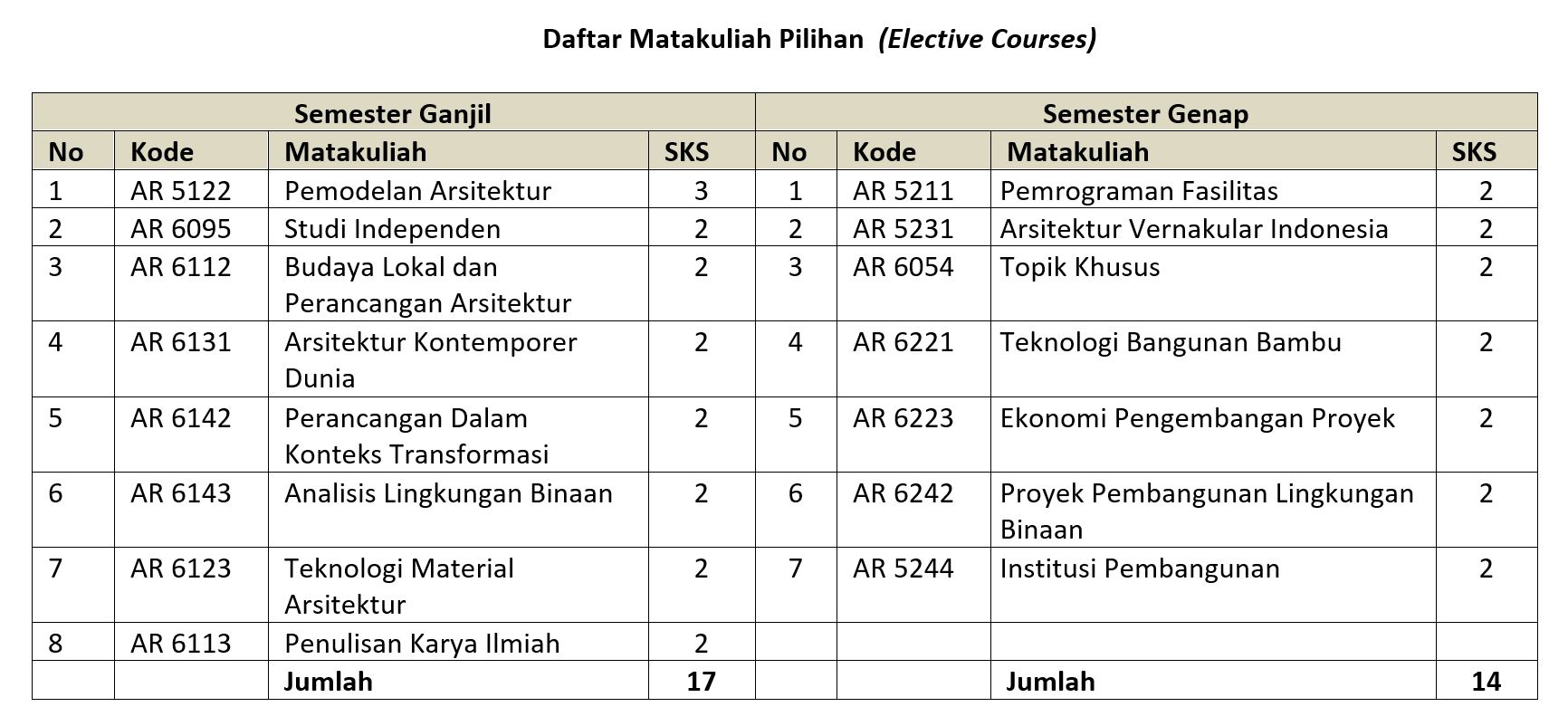 Silabus mata kuliah Magister Arsitektur dapat diunduh di sini.
Informasi terkait program Magister Arsitektur ITB dapat diunduh melalui leaflet dibawah ini
link leaflet program S2 Arsitektur ITB
Kegiatan studio AR5200 saat ini berpartisipasi dalam Designing Resillience in Asia (DRIA) International Design Competition. Seluruh kegiatan dapat dilihat melalui akun instagram @itbroadtodria