Kuliah Tamu – Adi Utomo Hatmoko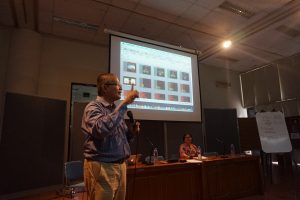 Adi Utomo Hatmoko, arsitek dari biro arsitek Global Rancang Selaras dan staf pengajar dari Program Studi Arsitektur, Universitas Gajah Mada memberikan kuliah tamu untuk mata kuliah AR-4050: Persiapan Tugas Akhir tentang desain tipologi rumah sakit atau arsitektur rumah sakit (Hospital Architecture).
Dalam paparannya, perancangan sebuah rumah sakit memiliki setidaknya empat faktor penting yakni:
Proper function and proper zoning.
Healing space and human character.
Efficient circulation & effective separation.
Green environment and green building.
Beberapa Pedoman Teknis tentang perencanaan dan perancangan fasilitas kesehatan dapat diperoleh di sini.
Materi presentasi kuliah tamu dapat diperoleh di sini.
Video presentasi kuliah tamu dapat diakses di sini
Save
Save