Design Charrette: Designing Street
Design Charette is one of the agenda items for the Bandung Echo 2022 held by ITB Gunadharma Architecture Student Association (IMA-G) with the theme Streetscape: Street for People . Series of events design charette it begins with an event Bandung Talk #1 which was held online on October 29 2022 as a provision of initial material for participants of the activity design charette as well as for the general public who attended. The event is filled with 2 materials, namely "Walkability and Its Role Towards Liveable City" by Angga Ardzuna Sinaga, IAI and "Streetscape for Peopleby Dr. Ir. Wicaksono Sarosa.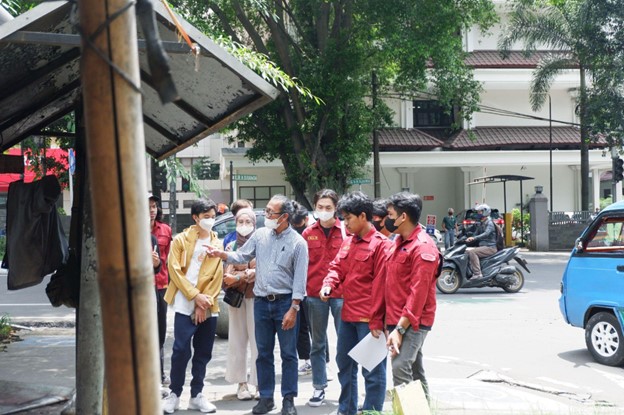 On Saturday-Sunday, 5-6 November 2022, the main agenda design charette held at ITB Architecture Labtek IXB Building. By raising issues Re-Thinking: Jl. Ganesha as a Street For People, design charette is a means for students of various majors to collaborate on designs with mentors, answer problems and challenges that exist in the community through the design of pedestrian paths on Jl. Ganesha that fits the context. The event was attended by 6 groups consisting of ITB students, other campus students in Bandung and outside Bandung, as well as general participants. Each of the 2 groups will be mentored by an architect who is experienced in his field, namely Ir. Achmad Deni Tardiyana, MUDD; Aris Munandar, IAI; and Angga Ardzuna Sinaga, IAI. 
The activity which lasted for 2 days, was opened with activities mini class filled by Ir. Achmad Deni Tardiyana, MUDD dan Achmad Basuni, AMD, ST, then proceed with the activity site visits on Jalan Ganesha which is the location of the design, and ends with discussions and workshops with each group and mentor. On the second day, the participants continued the discussion and workshop activities, then presented the design results as the culmination of a series of activities design charette for election best design. The series of activities closed with the announcement of the winner best design yang diraih oleh kelompok 4.