Pemenang I Lomba Elesium 2017 Oil Rig Competition 2016
Selamat kepada Debora Ulibasa Lubis yang bersama tim ITB yang terdiri dari mahasiswa  Teknik Perminyakan dan Teknik Kelautan, berhasil menjadi JUARA I dalam Oil Rig Competition pada ajang  Petroleum and Energy Symposium (ELESIUM) 2016. Ini adalah sebuah event yang diselenggarakan oleh Ikatan Ahli Teknik Perminyakan Indonesia Seksi Mahasiswa Universitas Indonesia (IATMI SMUI) dan Society of Petroleum Engineers UI Student Chapter (SPE UISC) bekerja sama dengan Ikatan Mahasiswa Teknik Kimia Universitas Indonesia.
ELESIUM 2016 mengangkat tema "Exploring Oil and Gas Role in Future's Energy Industry". Lomba ini diadakan untuk mengedukasi generasi muda yang dapat menjaga keberlanjutan bumi dan memecahkan masalah energi global. Lomba ini merupakan sarana untuk mengembangkan kreativitas dan inovasi dalam merancang model oil rig yang hemat energi dan memberikan keuntungan sebesar-besarnya pada proses produksi. Selain itu, peserta juga dituntut untuk dapat berpikir kritis dalam menyelesaikan permasalahan yang ada di lapangan dengan cara yang paling efektif dan efisien sebagai seorang calon insinyur.
Desain tim Debora dan kawan-kawan bertajuk JANGER yang mengangkat isu Ecofriendly Offshore Drilling Technology dengan sistem struktur dek menggunakan konsep honeycomb structure.
Selamat dan semoga menjadi inspirasi dan semangat untuk lainnya!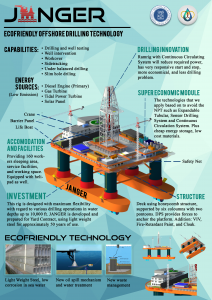 Save
Save
Save