Kuliah Tamu- Ahiska Ghulam Madian
Ahiska Ghulam Madian, atau biasa dipanggil Ghulam, merupakan lulusan Arsitektur ITB angkatan 2006 yang mengisi Kuliah Tamu kedua untuk mahasiswa Tugas Akhir (AR4099) semester ini. Lulusan University of Nottingham pada tahun 2016 yang lalu memaparkan pengalamannya selama kurang lebih 6 tahun mengenai Bangunan Tinggi, baik di dunia kerja maupun akademis. Pada kuliah hari Senin yang lalu (20 Februari 2017), beliau menjelaskan sejarah, jenis-jenis, serta prinsip desain dalam merancang Bangunan Tinggi yang Berkelanjutan (Sustainable Tall Building). Selain itu, beliau pun menceritakan tugas-tugasnya selama kuliah di Inggris Raya dan pengalaman bekerja di DP Architects (Singapura) dan Kohn Pedersen Fox/KPF (London), tentunya yang berkaitan dengan perancangan Bangunan Tinggi.
Secara singkat, menurut Council of Tall Building and Urban Habitat (CTBUH), Bangunan Tinggi dibagi menjadi 3 kategori, yaitu Tall Building – Lebih dari 14 lantai dan lebih dari 50% luas lantai digunakan, Super Tall Building – Lebih dari 300 m, serta Mega Tall Building – Lebih dari 600 m.
Menurut Phillip Oldfield dan Dario Trabucco, perkembangan pembangunan Bangunan Tinggi dibagi menjadi 5 generasi, yaitu:
1st Generation (The Birth) – 1855 hingga 1916, minim fasade transparan, bentuk compact (dan lebar).
2nd Generation (Zoning Law) – 1916 hingga 1951, bentuk ramping, AC mulai digunakan, masih minim transparan.
3rd Generation (Curtain Wall) – 1951 hingga 1973, mulai menggunakan single glazed curtain wall facade system, bergantung pada AC karena fasade yang tertutup.
4th Generation (Energy Crisis) – 1973 hingga saat ini, mengunakan double glazed curtain wall facade system, bangunan transparan dengan transmitansi surya yang baik, mulai kurang bergantung pada cahaya buatan.
5th Generation (Generate Energy) – 1997 hingga saat ini, memaksimalkan udara dan cahaya alami, fasade dengan kemampuan yang baik, penggunaan pembangkit energy di tempat.
Secara umum, prinsip perancangan yang berkelanjutan untuk bangunan tinggi dibagi ke dalam 3 aspek, yaitu Sosial, Ekonomi, dan Lingkungan. Dari ketiga aspek tersebut, dirangkum yang menjadi prinsip-prinsip yang harus diperhatikan di antaranya:
– Area pandang yang perlu dilindungi
– Jarak antar bangunan
– Ruang untuk publik
– Akses menuju transportasi publik
– Penghijauan pada fasade
– Memaksimalkan cahaya dan udara alami
– Penggunaan green roof
– Penempatan fungsi/zonasi dalam bangunan
– Penggunaan material untuk struktur yang tepat
– Efisiensi rancangan core
– Pengalaman ruang bagi pengguna (layout)
– Sistem elevator
– Mempertimbangkan posisi cahaya matahari dan arah angin
– Aturan pembangunan menurut lokasi
– Penggunaan energi alternatif
– Pembangkit energi di tempat/lokasi (on-site energy generation)
– Penggunaan fasade transparan semaksimal mungkin
– Sertifikasi 'bangunan hijau'
– Sistem pendingin
Untuk kedepannya, Ghulam menjelaskan bahwa kemampuan dalam menggunakan Building Information System (BIM) seperti Revit dan Grasshoper adalah keharusan jika memang ingin merancang bangunan yang berkelanjutan, apalagi jika ingin bekerja di luar negeri atau konsultan internasional. Beliau pun menjelaskan tugasnya saat mengambil gelar Master of Architecture, yang mendapatkan penghargaan sebagai Semi-Finalis dalam CTBUH 2016 International Student Tall Building Design Competition serta sebagai Best Sustainable Tall Building in a project dari University of Nottingham.
Informasi lebih lanjut dapat dilihat pada materi presentasi dan video berikut ini.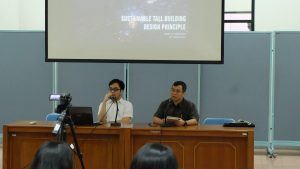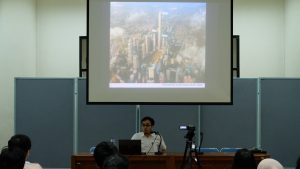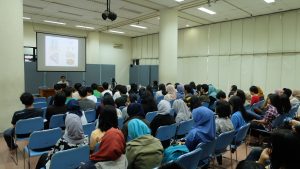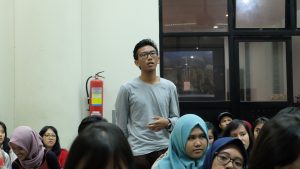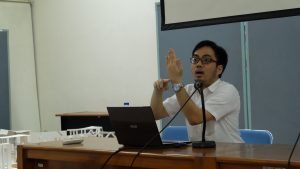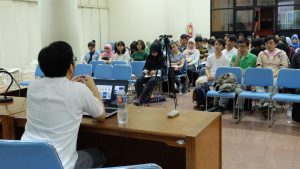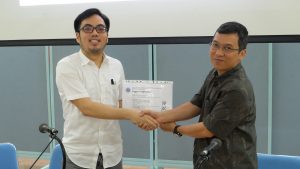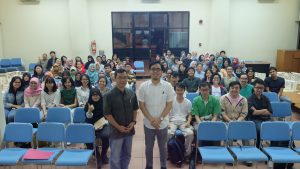 Save
Save
Save
Save
Save